Best Herbal Remedies
for Cold Sores
Herbal remedies for cold sores involve those that disinfect the sore and help the body's immune system fight off the virus.
Cold sores are caused by the herpes simplex virus and are highly contagious. Also called fever blisters, they appear on the lips, but also may be found inside the nose, mouth, or on the fingers.
A cold sore normally begins with a tingling sensation and will become a fluid filled blister. It usually last for seven to ten days and stress or menstruation may bring out a cold sore.
Black walnut is a natural antiseptic and it is high in iodine. Apply black walnut extract several times a day to the affected area. Oregano oil is a powerful antiseptic, as well, but it can sting. It's best when used before the blister actually appears. Tea tree oil's natural antiseptic properties are very effective, but the strong smell may be too much for some people.
Comfrey salve is used to help the body heal more quickly. It can reduce the time it takes for the cold sore to go away when used several times a day.
Aloe Vera is also one of the more popular herbal remedies for cold sores. It helps to dry the sore, which can help speed up the healing process. You can either use an oil, extract, or drink Aloe Vera juice.
Lemon balm is also a good choice, as it speeds up healing, as well. You can either apply it topically or brew two to four teaspoons of the herb in a cup of boiling water and drink it each day.
Warm tea bags can provide relief from the stinging, as can witch hazel. Avoid the lip balms and over-the-counter paraffin based ointment. These will do nothing more than trap the virus inside and prolong healing. Instead, consider licorice powder. It contains glycyrrhizin acid, which can help neutralize the virus and speed up healing. Grapefruit seed oil is a strong anti-viral and anti-bacterial, so it can also be very helpful as one of the herbal remedies for cold sores.
An Echinacea tincture is very effective at boosting your immune system, which can help in fighting off the herpes simplex virus. Also called coneflower, you should take twenty drops three times a day for ten days. You will be surprised at how much better you'll feel after the first two or three days.
It's also a good idea to boost your intake of zinc, as it is a natural immune boosting nutrient. Seafood, turkey, oysters, pumpkin seeds, eggs, and liver are all high in zinc. When searching for herbal remedies for cold sores, you'll find there a number of options available. Many have been used for thousands of years for various medicinal purposes. Some have strong antiseptic and antiviral properties, such as Propolis. It's made by honeybees and can dramatically reduce the length of the cold sore outbreak.
If you feel that one isn't working for you, simply try another. There are so many that one is certainly bound to become your favorite herbal remedy for cold sores.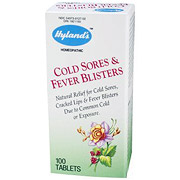 Cold Sores / Fever Blisters 100 tabs from Hylands (Hyland's)
Back to Herbal Remedies for Herpes

Return to Herbal Remedies from Herbal Remedies for Cold Sores