Fennel Tea Common Uses
Fennel tea has been used for centuries to treat digestive problems, but there are many other health benefits to this delightful cup of tea. This tea is made from the seeds of the fennel plant and contains vitamin C and most of the B vitamins.
It also has many important minerals, such as calcium, magnesium, and potassium. Below, you will find out more information about why this is one of the most common herbal tea remedies today.
What Is It?
Fennel is a perennial herb that is found in many areas of the United States, Europe, Asia, Africa, and Australia. The yellow flowers are large and beautiful. This is where the seeds are produced. Once the flowers are mature, the harvesting of the seeds begins. The seeds are dried and can be brewed into a wonderful medicinal tea.
One of the reasons why this tea is popular is that it is gently enough to give to babies, just as catnip tea is. It can help relieve the symptoms of colic, as it relaxes the muscles in the digestive tract and eases muscle spasms. It can be used to soothe an upset stomach or treat constipation. For those that suffer from irritable bowel syndrome, this is one of the herbal tea remedies that are most often recommended to ease the pain and other symptoms.
Helps Stimulate Estrogen
For women, fennel helps to stimulate estrogen effects and is quite effective at relieving many of the symptoms of PMS. However, it can also help increase milk production, increase libido, and relieve menopausal symptoms. For those that suffer from menstrual cramps, a cup of this herbal tea two or three times a day will help you find relief.
Common Eye Infection
Conjunctivitis is a common infection in the eyes. A cotton ball or pad soaked in cooled tea can help relieve much of the pain and it's good for reducing the swelling around the eyes, as well.
It also works as a mild diuretic, helping to flush out excess water and toxins in the body. It is very soothing for sore throats and can help reduce a fever, too. Many people use this great tea to help boost their metabolism to increase weight loss.
How to Prepare Fennel Tea
Boil one cup of water and pour over one or two teaspoons of crushed fennel seeds. Allow it to steep for five minutes. Strain out the seeds and enjoy. If the taste is not quite to your liking, you may want to add a fresh orange rind to the cup. Make sure you store the fennel seeds in an airtight container in order to retain the medicinal properties of this plant.
In Closing
Fennel tea is a fantastic herbal tea remedy for many different health conditions. Gentle enough for babies and children, you will be surprised at how effective this tea is for treating colic, upset stomachs, and other digestive problems.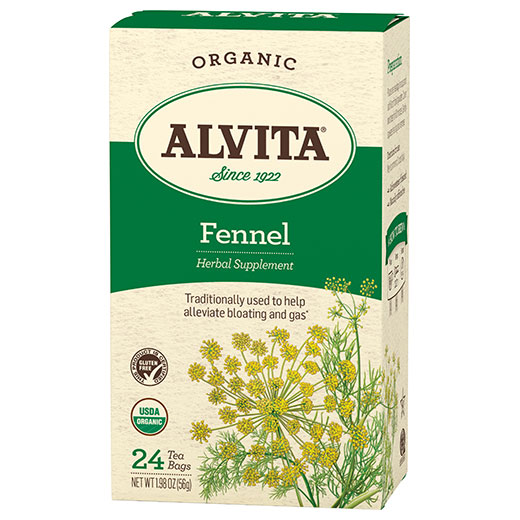 Fennel Tea (Fennel Seed) 24 tea bags, Alvita Tea
Back to Herbal Tea Remedies

Return to Herbal Remedies from Fennel Tea